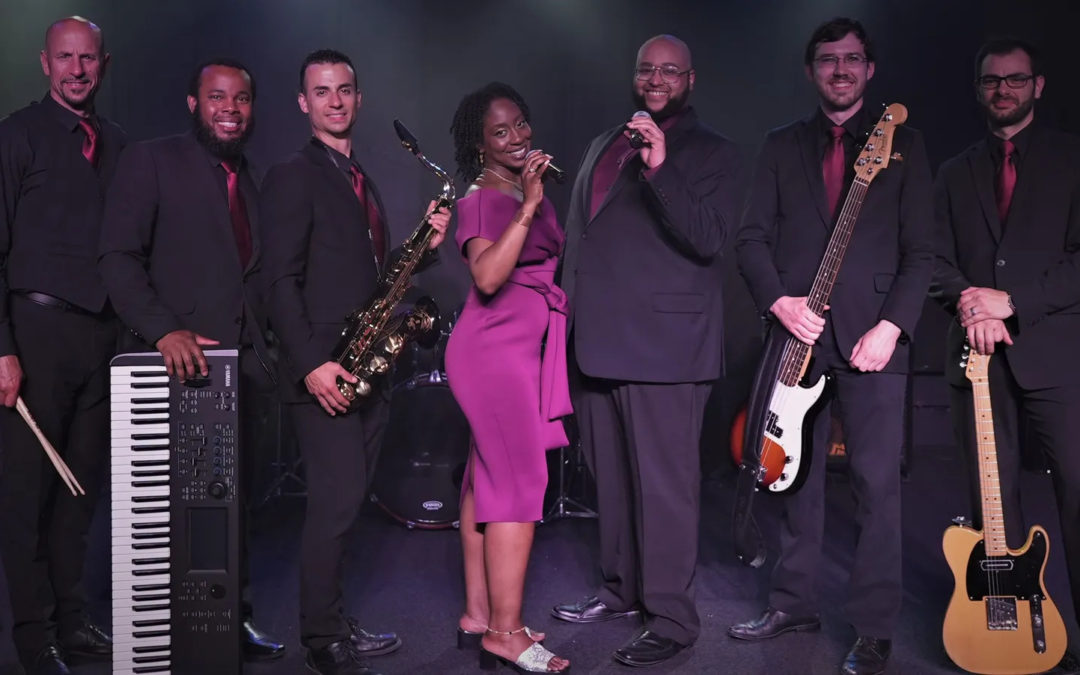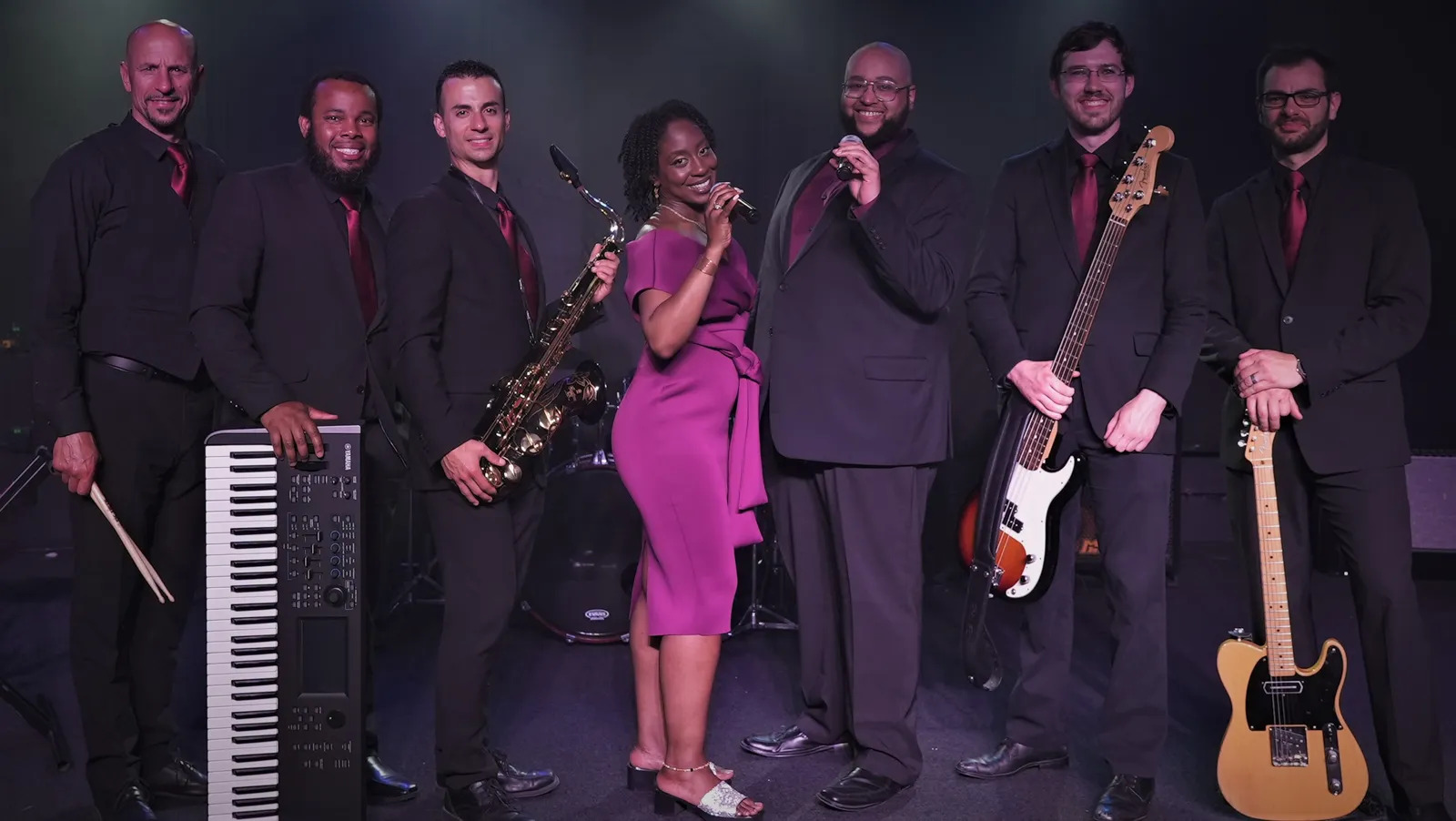 BLUES | SOUL | DISCO | FUNK | JAZZ | MOTOWN | POP | R&B | REGGAE | ROCK | SWING
The Party Factor is known for their energetic performances, an extremely wide repertoire, and genuine professionalism. The band members hail mostly from Berklee College of Music in Boston, one of the nation's most prestigious schools of music. When musicians with this level of training decide to form a band, the result is an extremely high-caliber group that is in high demand for weddings and special events. 
The Party Factor can seamlessly switch gears, moving through the genres of music that best suit you and your guests. Some of their most requested genres are top 40, R&B, and rock, but they're also extremely well-versed in oldies, swing, jazz, reggae, and even hip-hop! They also provide emcee services for those who are interested. Featuring three dynamic and engaging singers, as well as great musicianship, The Party Factor is sure to make your wedding or event unforgettable!
WHAT PEOPLE SAY
"WOW! What a great band! Our daughter and her fiancé chose The Party Factor for their wedding at the Fairmont Copley Plaza after hearing them at one of their showcases. Lisa and Danny told me they were a great band, but I didn't realize just how great until the day of the wedding. Rick, the bandleader, and the drummer are extremely responsive and easy to work with. The band members are an amazing, well-trained, talented group of musicians and singers. We used the keyboard player during the ceremony for classical music, added a sax during the cocktail hour to "jazz it up" and rocked the house with the full band during the reception. They can play it all!! As a very happy mother of the bride, I say if you want a fun, lively wedding, with a professional group of musicians, don't think twice about hiring The Party Factor!!"
– Lori W.
WHAT PEOPLE SAY
"The Party Factor should be the only option when it comes to hiring a band for your wedding. They are extremely professional, accommodating, and talented…On the day of our wedding, a few of the band members played jazz for our cocktail hour, one member emceed the entire event, and the band as a whole absolutely crushed it throughout the rest of the night. The emcee did an outstanding job introducing everyone and kept the night flowing. Most importantly, the dance floor was packed the entire night. The Party Factor does a great job reading the crowd, choosing songs from their expansive song list, and bringing the energy…From our perspective, it was a huge highlight of our amazing wedding, we couldn't be happier. Skip the DJ and spend the extra money to get The Party Factor, they are 100% worth it."
– Tim & Brie M.
WHAT PEOPLE SAY
"On behalf of Andrew and myself I want to thank you and the entire band for the most incredible and unforgettable experience! We absolutely loved every second of music that was provided. You guys are absolutely fantastic. So many of our guests have been raving about you and how they had the best time dancing. Andy and I agree that you and the rest of the band members are the reason why our wedding was absolutely perfect and a dream come true! Thank you for going above and beyond the entire night. The memory of us singing on our wedding night will last a lifetime. Please know that The Party Factor is and will always be our favorite band!"
– Mr. & Mrs. Gilmore
WHAT PEOPLE SAY
"Want to thank the band once again for fabulous music for Katie and Ben's wedding. I don't ever recall being at a wedding where the dance floor was full the whole evening. We have been to 16 weddings in the last 3 and a half years! We continue to get texts and emails from our guests who traveled from all parts of the country just raving about how great the band was. When Mary Ellen and I heard your first song a year ago in Somerville, we knew this was the band we wanted. You didn't prove us wrong. The band, caterer, and venue provided for a perfect wedding for Katie and Ben. Thanks again."
– Paul H.
WHAT PEOPLE SAY
"We loved Party Factor! They had a great energy, got everyone on the dance floor, and interacted with the crowd perfectly. We got so many compliments on the band, one of my friends even told me he's now questioning their decision to hire a DJ for his upcoming wedding after seeing Party Factor at ours. The band was also flexible to our interests and requests – we have dreamed of a long Horah (Jewish circle dance), and boy did they deliver! Thanks, Party Factor"
– Ivy & Ben
WHAT PEOPLE SAY
"The Party Factor was the highlight of our wedding. People still are talking about them. They catered to young and old, had literally everyone dancing, and they might have had an even better time than we did. Rick was a breeze in the planning process, totally flexible even up to the day of the wedding. There was such enthusiasm, and SO much talent, it's hard to fail with that combination. I'd recommend the Party Factor to anyone."
– Steve F.
WHAT PEOPLE SAY
"Hiring the Party Factor to play at our wedding was one of the best decisions we made in the wedding planning process. They were so easy to work with and learned a specific song to perfection for our first dance. Not a single person remained in their seat throughout our reception and we received so many rave reviews about the music throughout the night. We wouldn't change a single thing about their performance and would recommend them to anyone looking to make their wedding or event the time of their lives. Thanks again for being a part of our night. Greg and I continue to reflect on how you guys transformed our wedding!"
– Nicole & Greg H.
WHAT PEOPLE SAY
"The Party Factor performed at our 9/15/18 wedding and they were FANTASTIC. I had listened to the videos online, but being in person was an entirely different experience. Every single guest commented on how amazing the band was. I am just so incredibly glad that we hired The Party Factor. Importantly, Rick was also very easy to work with, and helped make our wedding vision come true. I cannot emphasize enough how amazing The Party Factor is — worth every penny."
– Ali & Martin B.
WHAT PEOPLE SAY
"We hired the Party Factor for our wedding at the Seacoast Science Center on the ocean in Rye, NH. Having never hired a band before, we weren't quite sure of the process, but Paul and Rick were terrific to work with and made it easy for us. The Band looked great, sounded great and really made the Party! Everybody was on the dance floor! They even learned a few songs for us that were not in their repertoire (yet)! We aren't going to get married again, but if you are, you should hire the Party Factor for your big day!"
– John & Fa
WHAT PEOPLE SAY
"We had the Party Factor play for our wedding at the Eagle Mountain House in Jackson, New Hampshire on September 22, 2018. We are still getting calls from our guests who can't stop raving about the band. A lot of friends have said it was the best wedding they have been to because everyone was up dancing and having a blast! Rick and Paul were awesome to work with and got every little detail we asked for. We can't thank the entire band enough for truly making our wedding such a great success. If you are looking for a great, talented, energetic band for your wedding, book The Party Factor. We can't wait to visit you guys when playing local in Boston!"
– Jenna & Adam G.
WHAT PEOPLE SAY
"I can't thank you guys enough for Saturday! The first thing everyone seemed to say was congratulations, immediately followed by "this band is amazing!" You guys really made the night exceptionally awesome for us! Thank you for everything and we will be sure to recommend you guys to anyone and everyone in the future. Please give my best to everyone in the band and be sure to thank them all for us. Thank you also for working with my sisters – that was a total surprise that I don't think I'll ever get over – thank you for helping them!"
– Emily & Ryan