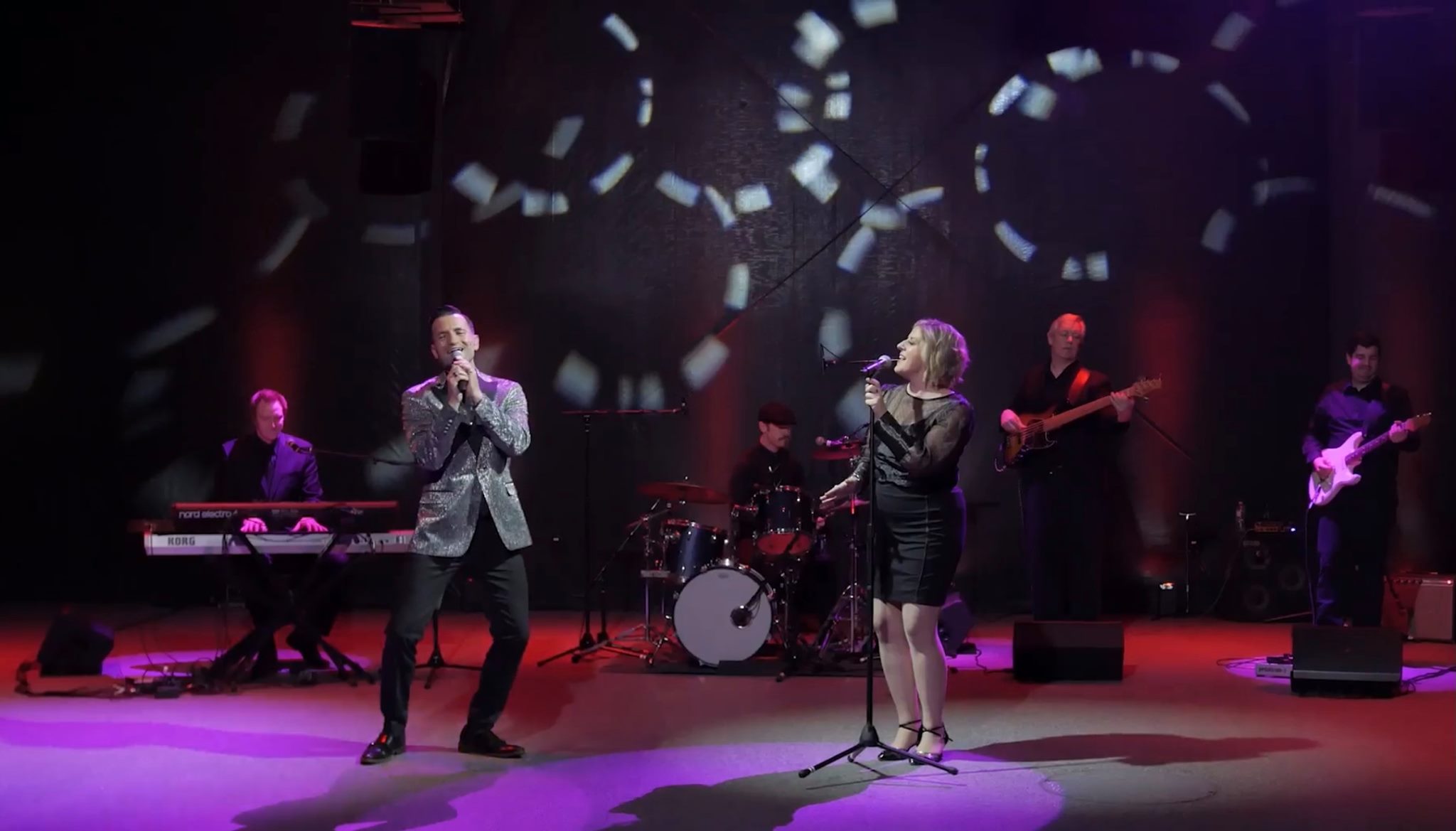 TOP 40 | POP | SOUL | MOTOWN | R&B | ROCK | JAZZ
The KTO Band is a group of six talented musicians, each with over a decade of wedding, corporate, and private event experience. Boasting incredible male and female vocal talent, the band plays a wide variety of genres, including but not limited to Top 40, Motown, Soul, Rock, Pop and Jazz. With a sound that's uniquely theirs and a larger-than-life presence on stage, the KTO band knows how to create memorable events all over New England and the surrounding area. If the right music matters for your next event, there's only one way to go: KTO!

WHAT PEOPLE SAY
"The Katie O'Brien Duo is the best duo ever! They both have such beautiful voices and are very talented. Their personalities shine so brightly. They are very professional and accommodating. We asked them at the last minute to shorten up a song and within minutes the song came out perfect. We couldn't have asked for anything or anyone better! Everything flowed perfectly. We can't thank [KTO] enough for helping to make our wedding day the best day of our lives, for us, and all of our guests! We will definitely be passing your name along to anyone who's in need of live music. Looking forward to hearing you again at our house warming party this fall! Thank you for the amazing job on our special day!"
– Ann-Marie & Mike
WHAT PEOPLE SAY
"If you're looking for the right music for any occasion, whether it be a wedding, corporate event, birthday party, anniversary or any celebration under the sun…then your only choice is KTO BAND. This is Katie O'Brien's band, which means you'll get a vocal powerhouse when it comes to singing talent and an impeccable professional when it comes to planning each event. If all you need is a 'cover band', you'll find thousands of them online, all promising the same thing, but if you want an ensemble of experienced musicians who will make your event a memorable one, go PRO and hire KTO. You'll be happy you did – and so will your guests!"
– Carolyn
WHAT PEOPLE SAY
"We did not want the evening to end and extended the party for another half-hour. No one left…the dance floor was packed! I cannot say enough about the KTO Band! If you are looking for a group to set your party in motion and send it soaring, they are it! Katie has the voice of an angel and the band is in sync and raging with talent and precision. OUTSTANDING!! Luckily for us, the weather was perfect, the food was excellent, and the band put this Mid-west snob in her place…OVER THE MOON at her son's KICK-ASS wedding!"
– Joanne B.
WHAT PEOPLE SAY
"We cannot thank [KTO] enough for making our big day so special. You sang our song 'I Choose You' (Sara Bareilles) better than the artist as Bonnie made her way down the aisle. Your powerful and beautiful voice is so well complemented by your guitarist. Together you made magic and set the tone for a wonderful day that we will always treasure. Do not hesitate to pass our contact information along, should anyone be looking for a recommendation for their wedding or any other event."
– Paul & Bonnie
WHAT PEOPLE SAY
"Katie and the band were wonderful to work with, and they made our wedding ceremony and reception memorable and SO much fun! Communication was excellent leading up to our wedding, and they perfectly captured the vibe and style of music we envisioned for our big day. Everyone was on the dance floor all night, and we received endless compliments about the music in the days that followed. I highly recommend hiring Katie for your next event!"
– Tori P.
WHAT PEOPLE SAY
""KTO was FABULOUS! Every single member of the band was so talented and had fantastic energy. The band was super easy to work with, and they seamlessly incorporated our song requests and genre preferences. They played an incredibly diverse set and nailed each song. Thank you guys for helping make our night so special – we absolutely recommend them to anyone looking for a wonderful live band!"
– Charlotte S.
WHAT PEOPLE SAY
"The KTO Band made, and I do mean MADE, our wedding. They were easy to work with leading up to the event, nailed all the small stuff like intros and moving events along, and fully delivered with a great sound throughout the evening that kept the dance floor full and the energy high. I can't recommend them enough for anyone looking for live music for a wedding or event."
– Ryan
WHAT PEOPLE SAY
"They were amazing – the sound, the music, the vibe, all perfect. And they can do everything from rap to country to pop, 80s, to latest top hits. Katie even helped by participating in the tributes. I can't say enough about how great the KTO Trio was. They made a good party, one everyone will remember. A friend liked them so much she hired them to play at her Oktoberfest next month and I already have another idea for a gig next September. Thank you, Katie & crew! See you soon."
– Deb
WHAT PEOPLE SAY
"The KTO wedding band is amazing. Very professional and top-notch performance and production. You won't be disappointed. Super happy to work with Katie and her wedding band."
– Lauren
WHAT PEOPLE SAY
"Amazing wedding band! Very professional, accommodating, and of course, talented! Katie and the whole crew really made our day so special. We can't thank or recommend them enough!"
– Kate