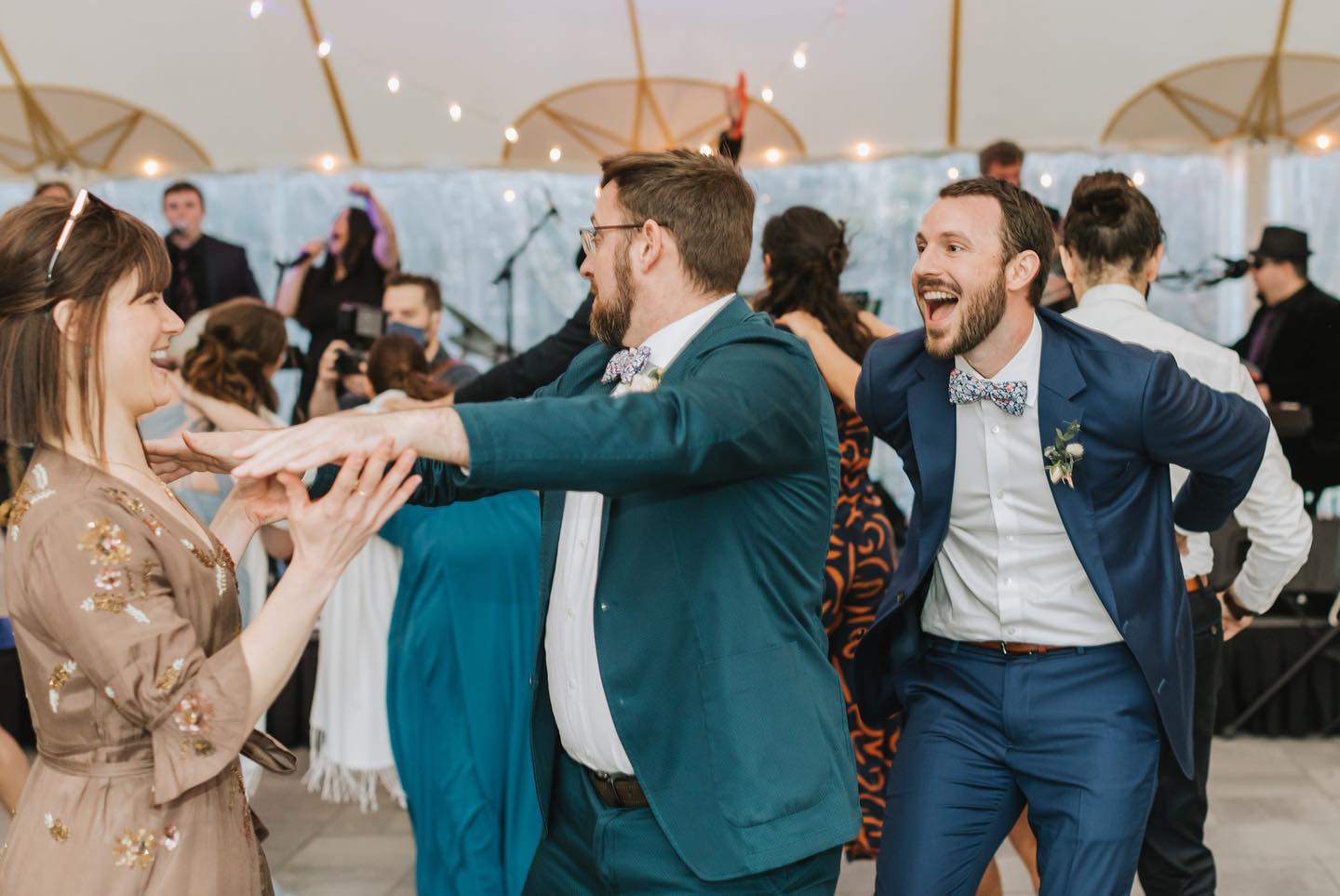 TOP 40 | POP | MOTOWN | SOUL | DISCO | FUNK | JAZZ | ROCK | COUNTRY | HIP-HOP | BRAZILIAN
The Sweetbeats is an award-winning, Boston-based wedding and event band with over a decade of performance experience. Known for pleasing crowds of all different ages and backgrounds, the band's energetic performances and versatile set lists continue to keep dance floors packed all over New England! Taking a mostly wireless approach, the band brings a new level of excitement to each event by walking out into the crowds and interacting with audiences on a deeper level.
The Sweetbeats pride themselves on being very meticulous and believe that the smaller details of an event can play a large role in its level of success. When asked, they'll tell you that they have a personal approach when working with their clients that allows them to meet each of their specific needs. If you're looking for stellar performances and attention to detail, The Sweetbeats have got you covered!
WHAT PEOPLE SAY
"Phenomenal, worldclass, friendly and fun, these guys are the real deal. Let me tell you about the jazz-specific portion of The Sweetbeats: The Jazzlanders. They are professors of music at Berklee Conservatory in Boston, top-tier professional jazz musicians who teach the craft, have played the world over, are published, and have won awards. And what do they do for fun?? They play weddings! It was an unbelievable privilege to work with Dave and the guys. We hired a 5-piece band of keys, drums, alto sax & clarinet (one guy), tenor sax, and bass. Dave worked with us to make our Jazz Soirée Reception a reality: we got up and sang with them, from Andrews Sisters to Frank to Streisand and everything in between. They were kind, flexible, and simply phenomenal. Hire them and dance the night away – you simply won't find better musicians anywhere."
–  Katharine C.
WHAT PEOPLE SAY
"Words can't even begin to explain how amazing The Sweetbeats were at our wedding this summer. From the initial stages of planning to bringing our vision to life, they were so easy to work with and really made a lasting impression for both us and our guests!!!! We've received so many compliments and can truly say that our expectations were far exceeded. We love how interactive the band was on the dance floor and really got the crowd going. Every single band member was beyond accommodating and really made our night spectacular. Thanks again to Sergei and the entire Sweetbeats crew for making our wedding a night to remember..and one that we will talk about forever!"
–  Jessica T.
WHAT PEOPLE SAY
"The Sweetbeats did an absolutely incredible job at our wedding this past weekend. We had to change our original date and rescheduled to September and Sergei was so flexible and wanted to make sure the day was perfect for us. I have never been to a wedding where the guests were shouting for an encore until this one – our families can't stop talking about how great the Sweetbeats were! Book the Sweetbeats for your wedding – you definitely won't regret it!"
– Victoria M.
WHAT PEOPLE SAY
"The Sweetbeats were absolutely incredible at our wedding! They were so easy to work with, and very responsive. They had all of our wedding guests up and dancing throughout the night, and we received so many compliments about how fun they were afterwards. They were responsive to our requests for music to include and avoid, and did a great job reading the room to keep the party going all night. We could not have been happier with the Sweetbeats! Do not hesitate to book them for your wedding!"
– Matthew F.
WHAT PEOPLE SAY
"Absolutely amazing! We recently had The Sweetbeats perform at our wedding and they were fantastic. They had everyone dancing and I had numerous people come up to me afterward saying it was the best live band they have ever heard. I would 100% recommend it. From planning prior to the wedding to the actual performance, they are there every step of the way and make the process as easy as it can be. I can't thank them enough!"
– David C.
WHAT PEOPLE SAY
"Working with Sergei and the Sweet Beats was an absolute pleasure! Sergei was extremely responsive and attentive in helping us plan the music for the event, and the band was SO SO SO talented!! My family (many of whom are working musicians) were extremely impressed and asked us several times how we found such a great group of musicians. We would definitely work with them again!"
– Andrew W.
WHAT PEOPLE SAY
"I cannot speak highly enough of the Sweet Beats Team! Sergi and his team are truly one of a kind, not to mention talented! As a wedding pro, I'm always looking for professional, punctual, well-spoken MCs, who know their way around music, which means not only taking into consideration the couple's fav music but also reading the crowd to keep the dance floor moving! Very much looking forward to seeing their name on the roster again!"
– Samantha J.
WHAT PEOPLE SAY
"The Sweetbeats made the night!!! So many people came up to us saying it was the best wedding band they'd ever heard! The music was amazing, they brought the best energy and got everyone going. Sergei was awesome to work with. We couldn't be happier with them!!"
– Megan C.
WHAT PEOPLE SAY
"Great band! Great musicians! Great show! Had them at our wedding for a 4-hour set and it was amazing. All of our guests loved the band and the music. Really brought the crowd to life. Thanks again!"
– Noah R.
WHAT PEOPLE SAY
"The Sweetbeats were EXACTLY what we hoped for – and never stopped dancing all night! They were our cocktail hour music and full band for the reception, and everyone complimented us on how fun and fabulous they were. Highly recommend!"
– Elyse N.