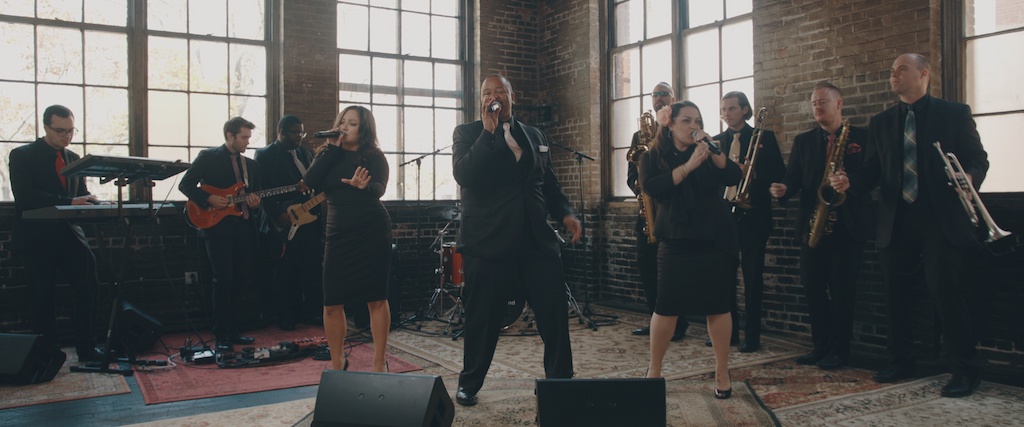 TOP 40 | POP | SOUL | R&B | CLASSIC ROCK | JAZZ | CLASSICAL
Founded in 1988, Soul City has a long-standing reputation for packing dance floors across New England and beyond, providing guests with a unique and memorable experience with every performance. Boasting an impressive 4-piece horn section, along with their 3 vocalists and 4-piece rhythm section, Soul City brings to all generations the highly influential Motown/Stax Soul sound which guarantees to keep guests dancing well into the night.
This multi-award-winning band has earned the reputation of being the leading true soul band of New England and is recognized on an annual basis by The Knot and WeddingWire as a top talent in the area. Owned and operated by a husband and wife team, Soul City is not only committed to providing guests with the ultimate musical experience but also working closely with couples to bring their dream weddings to life. You will dance. Resistance is futile.
WHAT PEOPLE SAY
"What is the word that describes BEYOND extraordinary? Soul City is not a band, it is an experience. An incredible experience at that. We are forever grateful to be able to have had the opportunity to work with Natalie, Tucker, and the entire Soul City family this past Saturday at our wedding at Saybrook Point Inn. To say that everyone was on their feet is not an exaggeration. The music was electric. The passion and energy were undeniable. The experience was priceless. This was one of the best decisions we made while wedding planning – investing in a band like no other. We can't count how many of our guests asked who our band was and where they were from. People LOVED them! Thank you, Soul City! Truly. You were nothing short of AMAZING!!!! We thank you sincerely. Hope to work with you again someday!"
–  Pantea U.
WHAT PEOPLE SAY
"When it came to showtime, Soul City blew our guests away. They provided ceremony music (keyboardist and guitarist + ceremony sound reinforcement), and reception music for the most amazing party of our lives! Soul City got everyone involved (even the kiddos!) and came out onto the dance floor multiple times to interact with everyone. It truly felt like they were just an extension of our family celebration. This is one super talented group of musicians – we went to see them multiple times before our wedding, and will continue to go to their shows because they are just THAT good! Book them now before some other lucky couple snatches them up. It will be one of the best and easiest wedding decisions you make."
–  Amy D.
WHAT PEOPLE SAY
"Soul City is absolutely the BEST!!…Our wedding on June 1 was INCREDIBLE and Soul City had a huge role in making it the best day of our lives! We had such a blast on the dance floor, the musicians were incredibly talented, fun, and professional all at the same time. Natalie did a fantastic job MCing our evening and even mastered pronouncing my new last name right (which is a feat!). All of our guests raved about the music and we continue to get compliments on it even months later! We can't thank Soul City enough for the best night!"
– Hilary S.
WHAT PEOPLE SAY
"While we might be biased, we truly think we had the best wedding. And the best decision we made about our wedding was hiring Soul City. They totally put it over the top. First, the music. They are true professionals and incredible musicians. They not only play the songs perfectly, but they also put on a show, make you feel special, and get everyone dancing. It was a helluva party. My wife and I are also musicians. Soul City openly welcomed us to join them on stage to perform a song with them (me on drums and my wife on vocals) and it was a memory we will never forget…Thank you Soul City, for everything! We love you guys."
– Sean D.
WHAT PEOPLE SAY
"Best Wedding Band! Soul City performed at our wedding in October and had everyone up dancing. People were blown away by how amazing the music was. We love Soul City so much that we have been to many of their shows in the Boston area and will continue to go see them even though the wedding is over! They are a great group to work with and will go out of their way to make your wedding music perfect! We had two musicians for the ceremony, three for the cocktail hour, and the full band for the reception. Soul City made the wedding truly unforgettable!"
– Kristen K.
WHAT PEOPLE SAY
"Nearly every single one of the 200 guests at our wedding made sure to remind us that we had the best wedding band they had ever seen. For some, it was emotional because it was the first live music they had seen since 2020 threw all of our lives sideways. That is the magic of Soul City…Soul City brings the house down from start to finish. They bring songs for everyone, and if you're lucky enough to be the bride and groom, for just one night, they make you feel like Earth stands still for you. Thank you, Soul City, for the best night of our lives — so far!"
– Ethan U.
WHAT PEOPLE SAY
"Soul City was unbelievable! They were extremely helpful throughout the whole planning process and made us feel like everything was perfect. They were exactly what we were looking for and really rocked the party all night long! Thanks, Soul City!"
– Nathan J.
WHAT PEOPLE SAY
"This band was unbelievable. My sister-in-law used them a couple years ago for their wedding, so the day after our engagement we contacted Natalie to book them! That's how we got our wedding date because we knew we had to have them play for us. Not a person was sitting the whole night and everyone is still talking about them weeks after the wedding!"
– David M.
WHAT PEOPLE SAY
"Because of these talented and FUN musicians, it made our son and daughter-in-law's wedding memorial, brought everyone together while having a ball. I would recommend them to ANYONE who wants an evening that EVERYONE will remember. Thank you, Soul City. We ♥️♥️♥️ You!"
– Gracie D.
WHAT PEOPLE SAY
"This band was simply amazing! It was so much fun to have them be a part of our special night. They were connected to our crowd and kept the energy alive until the very end! Great musicians. Excellent song lists. Trust them with your wedding and you won't be disappointed!"
– Matthew B.