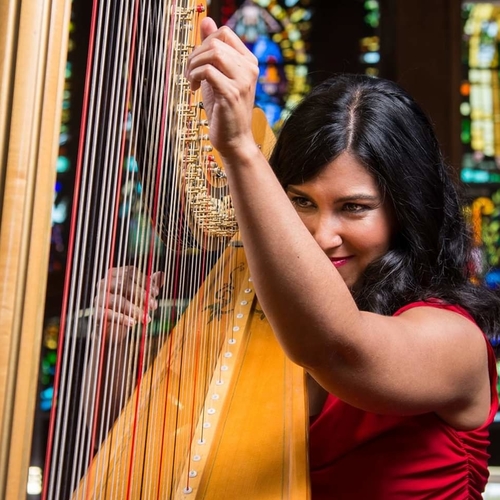 Chamber performer and soloist, Lizary Rodríguez Ríos attended the Conservatory of Music of Puerto Rico and studied with noted Puerto Rican harpist, Maria Vidal. She earned both masters and doctoral degrees from the University of Arizona, where she studied with world renowned harpist, Dr. Carrol McLaughlin. She also subsequently finished two postgraduate degrees from Madrid's Royal Conservatory of Music, studying under the tutelage of celebrated harpist, Dr. Maria Rosa Calvo-Manzano.
Dr. Rodríguez Ríos has performed internationally at numerous venues and festivals, including the prestigious Casals Festival in Puerto Rico. In addition to her career as a soloist, she has toured with the Grammy-nominated international harp ensemble, Harp Fusion, performing in the Czech Republic, Switzerland, Spain, and Russia. She has recorded three albums with the group, featuring her as harpist and arranger. Among many exceptional honors, Rodríguez Ríos was the first harpist to receive the Centennial Achievement Award in the history of the University of Arizona.
Dr. Rodríguez Ríos has won prizes in competitions, such as the President's Concerto Competition at the University of Arizona, the International Tournament of Musicians (TIM) in France, the Cita di Padova International Music Performance Competition in Italy, and the Notes at 9,000's Emerging Artist Series Competition in Colorado.
WHAT PEOPLE SAY
"Exceptionally talented, graceful, and elegant are some of the words that describe Dr. Lizary. She played at our wedding and guests were coming up to me asking for her name and asking me to tell her how beautiful her music was. Because I was planning the wedding from overseas and was on a tight schedule, she was very accommodating and let us meet her at her studio on her birthday! She's just that nice! She has an extensive repertoire of songs, but learned how to play a couple of songs that I requested, and those songs were hard! I walked extra slow down the aisle just to listen to her play. 🙂 She will add a touch of beauty and elegance to any event."
– Sarah A.
WHAT PEOPLE SAY
"We cannot say enough amazing things about Lizary. From the moment we met her, we knew she was the perfect harpist for our garden wedding! She is incredibly talented and fun to work with. She has a great list of songs to choose from, from classical to current, and is willing to work with you if you have additional requests. She is responsive to emails and was willing to meet with us more than once. We couldn't be happier with our decision to hire her. She was the cherry on top of the perfect ceremony!"
– Kendra and Dan
WHAT PEOPLE SAY
"Lizary performed during our wedding ceremony, as well as our cocktail hour. She was AMAZING!!! From the first moment that I heard her play, my husband and I were blown away. Not only with her unbelievable talent, but also her knowledge of ANY song we requested. She can play everything from Canon in D to Bruno Mars "Marry You". The guests LOVED her music and are still talking about her today. Every step of the way, she was the vendor that was most responsible and professional! It was TRULY a pleasure having her as part of our special day!!!"
– Elizabeth
WHAT PEOPLE SAY
"Lizary played at my daughter's outside ceremony at The Grand View. She is simply wonderful. She is easy and professional. It's amazing how she just knows what songs to pull up. She is patient and she even wore a dress to blend in with the wedding colours. You are great, Lizary!!!!! We loved you!!!"
– Rebecca
WHAT PEOPLE SAY
"Lizary was extremely easy to work with. My husband and I were unsure what we wanted for ceremony music and she helped us choose music that we loved. During our ceremony, Lizary played beautiful music. We left our music choices a bit open ended and she knew exactly what to play. The cost for an hour of music (plus a consultation) was highly worth it. I wish I could get married again just to have Lizary play for us again."
– Beatriz
WHAT PEOPLE SAY
"It was a pleasure to have Lizary play the harp at my daughter's wedding. She has an amazing gift. I have not stopped talking about how beautiful it was. Lizary added a touch of heaven to the day."
– Cheryl
WHAT PEOPLE SAY
"Absolutely fantastic! I hired Lizary for a rehearsal dinner at the last minute. She was amazing! Professional, on time, played beautifully! Her skills are unsurpassed. She made the event over the top great!!!"
– Fran A.
WHAT PEOPLE SAY
"Lizary was a dream to work with. She played the harp for our wedding ceremony and it was even better than we expected. We were unsure what we wanted and left some of the music up to Lizary to play. Her music selection was perfect and our guests raved about her throughout the night. I would get married again just to have Lizary play for us. 🙂 "
– Bea M.
WHAT PEOPLE SAY
"Lizary's music made our rehearsal dinner over the top perfect!! She is the BEST of the BEST!"
– Scott A.