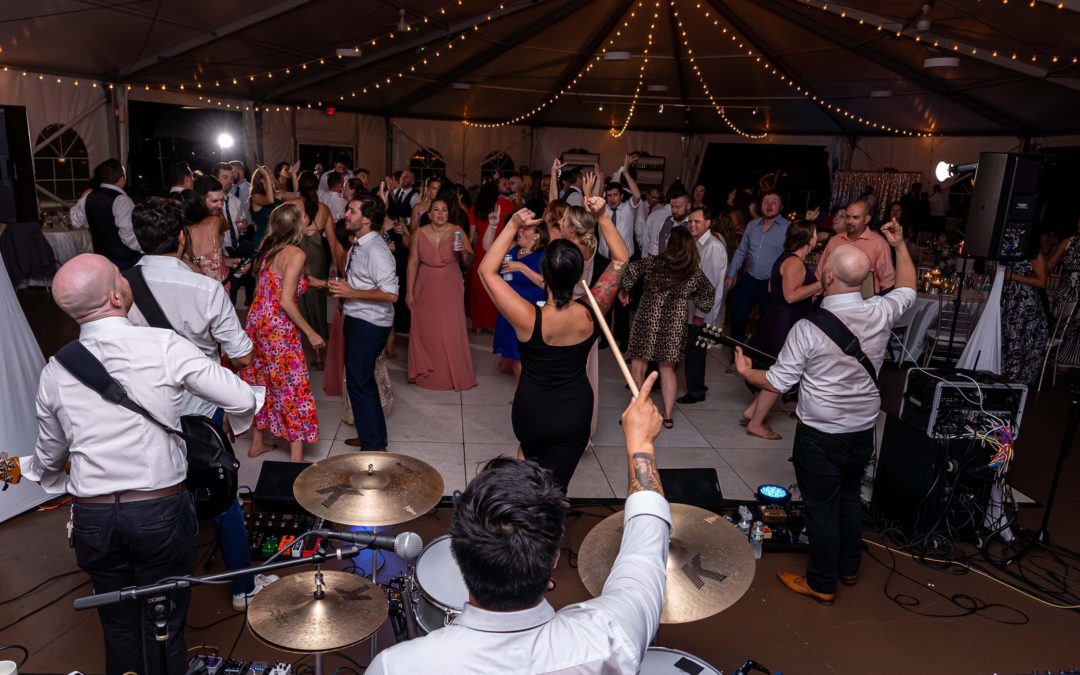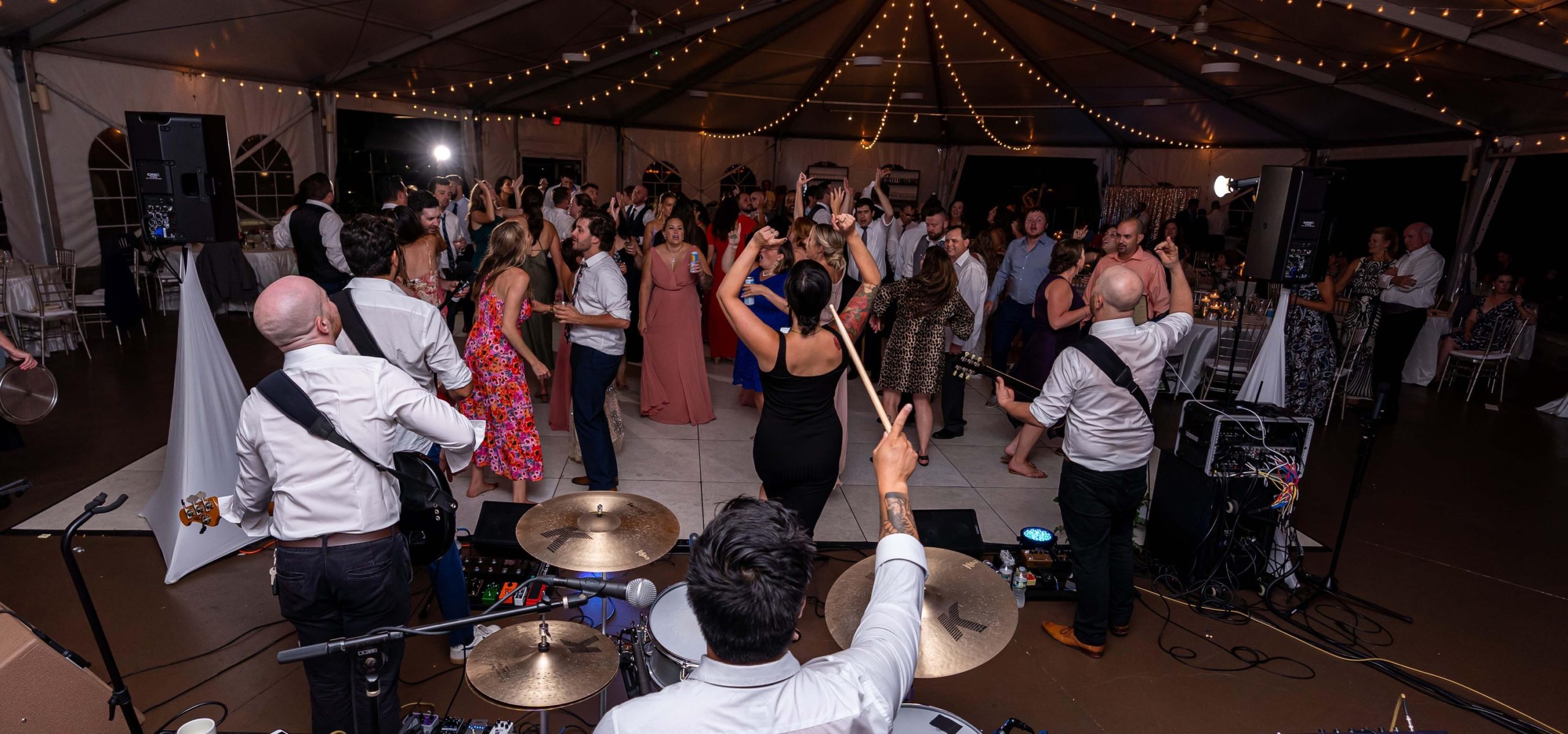 ROCK | POP | R&B | MOTOWN
The 1999 is one of New England's award-winning party bands that comes complete with their very own DJ! They have been known to turn weddings and events into legendary dance parties and singalongs. Their impressive list of awards proves it! This is a group of high-energy musicians that have won "Best of The Knot" and WeddingWire's "Couple's Choice Award" every year since 2015.
Outside of their incredible talent, one of the things that makes The 1999 so great is the way they pride themselves on a "client-first" approach. This means that professionalism always takes center stage. The band has a diverse song list, which includes over 150 songs, spanning hits from just about every genre and every decade. To top it all off, they also provide an all-inclusive professional tour-grade sound system and stage lighting rig. If you want to transform your event into an epic party, The 1999 is your band!
WHAT PEOPLE SAY
"I have worked with and seen The 1999 on multiple occasions and they are amazing! Not only are they fun, but they are also professional. They engage, keep the energy up and really know how to pick songs that aren't the same cover band playlist. The band is tight while still being fun and energetic. They cover every genre and will surprise even those of us that have seen it all. If you have a club, hire them. If you're having an event, hire them. If you're going out and they are playing at a club, GO SEE THEM! You will not be disappointed!"
–  Sean G.
WHAT PEOPLE SAY
"Maybe most importantly to me, we had heard from our other vendors AHEAD of our wedding date to tell us how excited they were to work with the 1999 based on both past experiences and their reputation in the industry. How they treated not only us, but their relationship with our venue and other vendors spoke volumes to me about who they were as a group. We wanted most of all our wedding to overwhelmingly feel like a gathering of our closest friends and The 1999 fit right into that mold. Couldn't recommend enough hiring the 1999 for your wedding."
–  Kelsey & Matt
WHAT PEOPLE SAY
"If you've found this review, book The 1999 for your wedding or event. If you don't, you'll 100% regret it. They are some of the most talented individuals we've ever met. They listen, and advise, but most of all are passionate about what they do. Our wedding day was beyond perfect but The 1999 one made it EPIC. From the ceremony to the acoustic cocktail hour to the reception, The 1999 brought their talent, passion, and expertise with them throughout the entire day. You won't have to look any further because if you want it all, The 1999 is meant for you."
–  Shelby & Mike
WHAT PEOPLE SAY
"Our night flowed perfectly because of their planning and all the secret stuff they did in the background to make it work. We asked them for 3 custom song edits (processional, first dance and mother-son dance) and he offered up a few options and which one he thought could work best. These guys are amazing. My friends could not stop talking about how great the band was; I have shy, older family members and they somehow were able to get them onto the dance floor. These guys are incredibly talented and passionate. All around amazing."
–  Andrea & Greg
WHAT PEOPLE SAY
"A month later, we still have friends and family raving about how amazing the music was. Our wedding wouldn't have been the same without The 1999 – they truly made the party! If you are thinking of booking them for your wedding – don't wait!"
–  Kaitlyn & Jake
WHAT PEOPLE SAY
"The combination of band and DJ creates seamless transitions throughout the night from the ceremony right through the reception. Our guests were all asking us about The 1999 and on the dance floor all night. They even made a custom track for my dance with my dad. We know that choosing the right wedding entertainment is so important and the 1999 is worth every penny! Book them! Follow them on Instagram! 11/10 from us!"
–  Brianna & Sam
WHAT PEOPLE SAY
"Saw the 1999 at a pool event and it was the best start to our summer! They had an amazing mix of music that was perfect to sing along with and we couldn't help but get up and dance. The band's performance was fun to watch. Great experience and would recommend them for parties and events!"
– Em A.
WHAT PEOPLE SAY
"The 1999 was by far the best vendor we worked with when planning our wedding! The music selection was unbelievably amazing. We had so many friends come up to us during the wedding asking us how/where we found them and how the band crushed it."
– Christie & Greg
WHAT PEOPLE SAY
"I love these guys! They always prioritize their couple's needs. Stellar with communication too, which gives them a gold star in my book."
– Morgan E.
WHAT PEOPLE SAY
"The best part? I got to play guest DJ at my own wedding, which was a blast for my friends and family."
– Amanda W.
WHAT PEOPLE SAY
"Incredible musicians, super nice guys."
– Thomas M.
WHAT PEOPLE SAY
"Great band, crowd pleasers, easy to work with…Do yourself a favor and book them now!"
– Susan C.