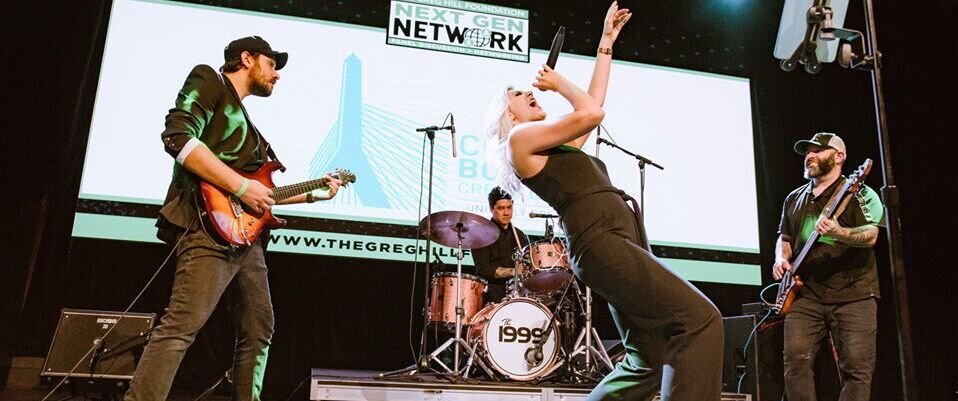 ROCK | POP | R&B | MOTOWN
The 1999 is one of New England's award-winning party bands that comes complete with their very own DJ! They have been known to turn weddings and events into legendary dance parties and singalongs. Their impressive list of awards proves it! This is a group of high-energy musicians that have won "Best of The Knot" and WeddingWire's "Couple's Choice Award" every year since 2015.
Outside of their incredible talent, one of the things that makes The 1999 so great is the way they pride themselves on a "client-first" approach. This means that professionalism always takes center stage. The band has a diverse song list, which includes over 150 songs, spanning hits from just about every genre and every decade. To top it all off, they also provide an all-inclusive professional tour-grade sound system and stage lighting rig. If you want to transform your event into an epic party, The 1999 is your band!
WHAT PEOPLE SAY
"I have worked with and seen The 1999 on multiple occasions and they are amazing! Not only are they fun, but they are also professional. They engage, keep the energy up and really know how to pick songs that aren't the same cover band playlist. The band is tight while still being fun and energetic. They cover every genre and will surprise even those of us that have seen it all. If you have a club, hire them. If you're having an event, hire them. If you're going out and they are playing at a club, GO SEE THEM! You will not be disappointed!"
–  Sean G.
WHAT PEOPLE SAY
"Saw the 1999 at a pool event and it was the best start to our summer! They had an amazing mix of music that was perfect to sing along with and we couldn't help but get up and dance. The band's performance was fun to watch. Great experience and would recommend them for parties and events!"
– Em A.
WHAT PEOPLE SAY
"I love these guys! They always prioritize their couple's needs. Stellar with communication too, which gives them a gold star in my book."
– Morgan E.
WHAT PEOPLE SAY
"The best part? I got to play guest DJ at my own wedding, which was a blast for my friends and family."
– Amanda W.
WHAT PEOPLE SAY
"Incredible musicians, super nice guys."
– Thomas M.
WHAT PEOPLE SAY
"Great band, crowd pleasers, easy to work with…Do yourself a favor and book them now!"
– Susan C.