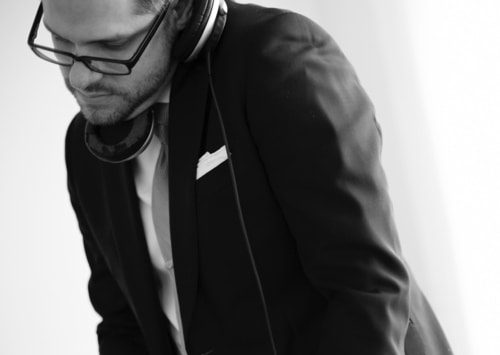 WEDDINGS | PRIVATE EVENTS | CORPORATE EVENTS
DJ Josh has been creating unique musical experiences for almost 20 years. He's performed at almost every type of event imaginable and truly believes that music is so much more than a pre-programmed playlist. He knows that if a DJ cannot properly read their audience, they'll never be able to create that one-of-a-kind experience that pulls people out of their seats and onto the dance floor. In love with his craft, Josh still spends his time learning everything he can about mixing, blending, and the latest technology. However, what makes him so special is that he's also a student of music theory, which allows him to seamlessly blend songs in complementary keys. (This means no clashing notes!) 
Another unique quality is that Josh has developed a love for the distinctive sound and tactile experience of vinyl. For him, there's just something about the ability to manipulate it in ways that aren't possible with digital technology. Josh cares deeply about what he does. Funk, rock, house, hip hop, world, you name it! He loves how music speaks to people and he knows this is what DJing is all about!
WHAT PEOPLE SAY
"The Manchester Animal Shelter partnered with Tito's Vodka to host one of the largest/most well-attended events in our fundraising history- the Ugly Sweater Run. We reached out to DJ Josh to see if he would be willing to not only keep the "holiday spirit hopping" but also to keep the nearly 1,000 people engaged, entertained and informed. Josh rose to the occasion and went above and beyond our expectations. He was attentive in the planning stages and made sure to prepare music that was audience appropriate and upbeat. Getting a large room full of runners' attention was no problem for Josh. He kept everyone's ear and helped us thank our sponsors and supporters, all while staying in the holiday spirit! We can't wait to have him help in making this event a HUGE success for years to come! A big round of app"paws" for DJ Josh!"
– Laura G. 
WHAT PEOPLE SAY
"Josh was a stellar DJ for my friend's wedding! We had a small backyard ceremony and Josh brought the perfect vibe and energy for that scene. He could read the crowd really well and kept a good mix of old classics and new ams coming throughout dinner. When it came time to do some toasts, Josh had no problem helping the groom's brothers and the bride's mom get to the microphone. Throughout the whole night, he was a good sport and a great support at keeping things moving! Requests were coming in all night long and Josh managed them perfectly. He even stayed later than we booked him for and helped clean up at the end! Truly above and beyond what we expected for our DJ, and we will definitely be using him for our DJ needs in the future!"
– Brittany Z.
WHAT PEOPLE SAY
"If you are ever looking for a professional among professionals, look no further than DJ Josh. In the worst of weather, DJ Josh kept our outdoor Halloween party upbeat and fun with his endless energy and great selection of music. Most impressive was Josh's ability to seamlessly mix last minute additions into our event. [He] provided our guests with an amazing time on an otherwise soggy and cold evening. [His] professionalism was evident from the beginning. Prior to the event, he took the time to visit the location of the party, meet the organizers, and even offered suggestions to make the event even better. He was a pleasure to work with and we will certainly be using him for all future events!"
– Rob M.
WHAT PEOPLE SAY
"Josh was hired to DJ my office's 20th anniversary party. We had about one hundred people there, ranging from toddlers to people in their 80s. We had a large space with a dance floor. I gave Josh free reign to play the music he thought was appropriate for the event. From beginning to end, Josh was professional and easy to work with. He seamlessly coordinated with the lighting and sound crew, had a wonderful variety of music that appealed to my audience and was able to adapt to the crowd with requests. (The older people wanted the music quieter and the younger kids just wanted to dance!) He made great decisions for appropriate music for the different phases of the event (entry, dinner, dancing, etc.) I would choose to work with Josh again and hope I have the opportunity."
– Jenny B.
WHAT PEOPLE SAY
"Josh was AMAZING (even with my girlfriends of 40 years)! LOL He was on top of all the song requests."
– Jodie