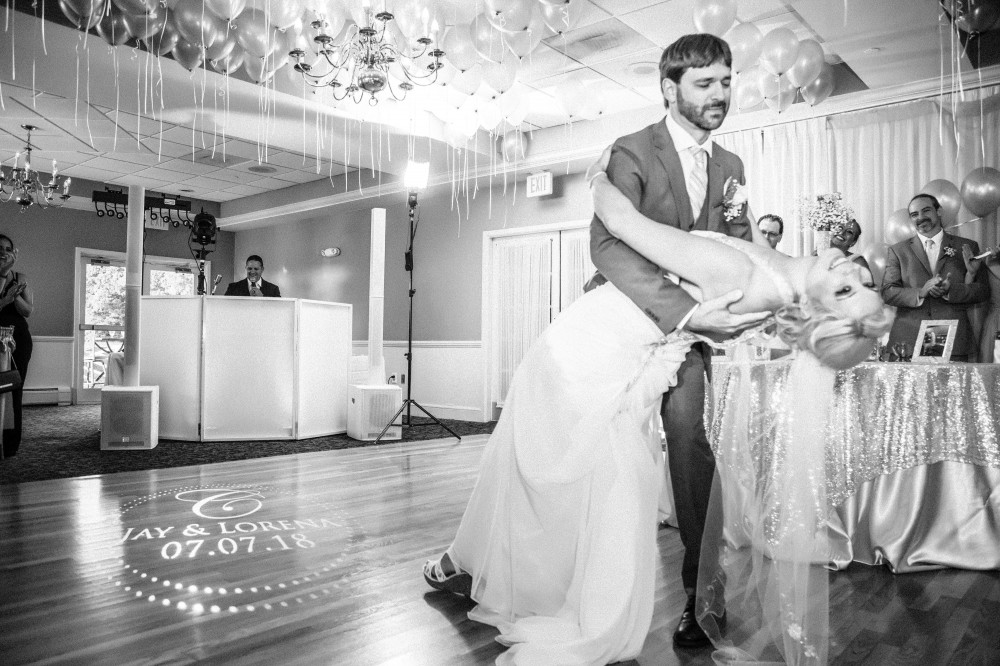 WEDDINGS | PRIVATE EVENTS | CORPORATE EVENTS
Even before his career began, DJ Jason spent many weekends watching his father, a very popular wedding DJ and photographer, plan and execute events for all different client types. This piqued Jason's interest in the wedding and event industry enough to begin assisting his father, which is where he fell head-over-heels in love with the art of DJing and MCing. His extremely outgoing personality lends itself very well to the industry and now, with over 30 years of experience, DJ Jason has become one of New England's premier DJs! To date, DJ Jason has provided entertainment for thousands of weddings, anniversaries, birthday parties, dances, proms, banquets, and corporate events from Newport to Providence, Boston to Cape Cod, and just about everywhere in between.
Also a licensed JP in MA, Jason takes great pride in providing his clients, not only with a diverse collection of music, but also with a deep respect and bridal etiquette that runs through to his core. His veteran status also allows him to set the desired atmosphere for any occasion. If you're looking to make your event both special and memorable, DJ Jason is absolutely the right DJ for you!
WHAT PEOPLE SAY
"We had the absolute best time working with Jason. We were recommended by a friend and I could not have picked a better DJ for my wedding. He was so fun to work with and played the exact music we wanted. On top of my fiancé and I liking Jason so much, our family and friends have contributed to tell us how awesome our DJ was. If I got to get married all over again, one thing I wouldn't change is our DJ! Thank you so much Jason for making our wedding day the best day of our lives."
– Ashley Z. 
WHAT PEOPLE SAY
"Jason was amazing doing my wedding this past weekend! He was very accommodating and made sure everything was absolutely perfect, even with my last minute changes. He made my dream come true! He kept the dance floor going all night long! Had the pleasure of having him help with the reveal of my pregnancy. Definitely consider hiring Jason for your events. You will not regret it!!!!"
– Emily F.
WHAT PEOPLE SAY
"We knew when we met him! When we first met Jason, we knew his charismatic personality and outgoing style was exactly what we wanted. When the girls were getting ready, he even helped us while photos were being taken. He did a great job and wanted to make sure we were happy the whole night. Awesome job!"
– Stacy M. 
WHAT PEOPLE SAY
"Couldn't have asked for a better DJ. From the time we first met with Jason, we hit it…. The day of the wedding, Jason was so accommodating. He kept the music going and everyone on the dance floor. Thanks for the great dance, Jason. All of my guests had such a blast and so did we. Thanks Jason for making our wedding special and a day that neither one of us will forget."
– Stephanie B.  
WHAT PEOPLE SAY
"Jason was amazing! So easy to work with! Jason even went above and beyond when I couldn't get a hold of my photographer and he helped me. His logo and uplighting were perfect! He informed us of everything. Even night of, I knew when uplighting was changing. His communication was on point!!! The dance floor was packed all night and everyone had a blast! I would recommend him to any bride who wants a stress-free experience!!"
– Jennifer J.  
WHAT PEOPLE SAY
"Jason was super helpful, accommodating and professional the entire time. He was helpful with song choices, and read the crowd very well with his music choices. He was always respectful of what the bride and groom asked for! Highly recommend for anyone looking for a smooth experience!"
– Joe M.  
WHAT PEOPLE SAY
"My wife and I could not have been more excited to have Jason as our DJ. I have heard about Jason being from the South coast area, and was thrilled to hear he was available! The wedding guests and us had the time of our lives! Could of danced for days. Also, he knows how to dress perfectly in his fall suit. 😉"
– Jessika P. 
WHAT PEOPLE SAY
"Jay did an awesome job at our wedding! He was our JP and DJ and transitioned between the two seamlessly. Uplighting was perfect, he played all the songs we requested and allowed us to make changes up to 2 days before the wedding. (We couldn't decide on a first dance song.) We would use him again in a heartbeat."
– Lindsay B.