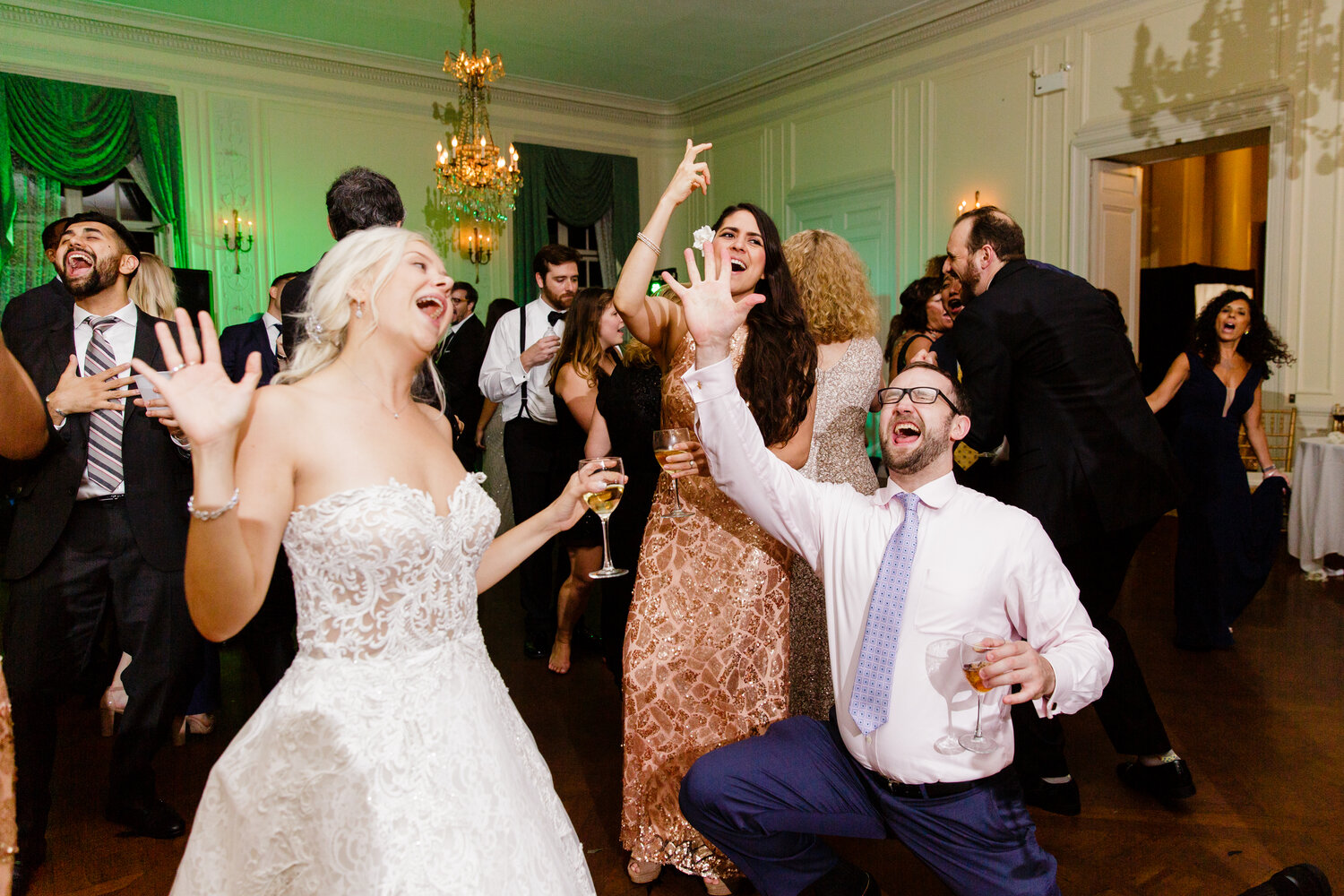 WEDDINGS | PRIVATE EVENTS | CORPORATE EVENTS
A veteran in the wedding and event industry, DJ Dennis has helped facilitate wedding celebrations for over 100 engaged couples! Very familiar with genres such as hip hop, pop, rock and electronic, he also enjoys a good challenge and loves working with the key of specific songs to ensure that his mixes are smooth and sonically pleasing. DJ Dennis also understands how to cater to all demographics and has years of experience reading crowds, even BEFORE they get on the dance floor.
Over all else, DJ Dennis values professionalism, organization, and friendliness, which means he takes great pride in making special occasions absolutely unforgettable. Whether you're hosting your wedding, engagement party, shower, rehearsal dinner, or anything in between, DJ Dennis adores catering to your unique desires. He's sure to make your special day perfect and he looks forward to celebrating with you!
WHAT PEOPLE SAY
"Dennis was awesome to work with! He did things that we didn't think of, and it enhanced the evening – He had a nice set up booth with lights, he provided a speaker and mic for the ceremony we had which was away from the ballroom, so that was very helpful! He played ambient music during dinner. We had an older crowd at our party (50th anniversary) and he was keen to play music for the guests that suited what they wanted to do. Overall, very pleased with having Dennis as a DJ we can work with in the future!"

– Sharada D.
WHAT PEOPLE SAY
"The DJ was amazing!!!! Not to mention, he was available on his birthday for our day which was very kind and a true blessing!!! He was great from beginning to the very end, played all the songs we liked and had the wedding party and the entire guests dancing the entire night. I would highly suggest him to anyone! I will be using him again for my daughter's birthday party."
– Alfreda B.
WHAT PEOPLE SAY
"Great experience with the DJ and uplighting! We had a cancellation prior from another DJ and Dennis was super responsive right off the bat and really helped us in terms of securing the date and being there for our special day! He did a great job of getting everyone to dance on the dance floor! Thanks again."
– Tiffany R.
WHAT PEOPLE SAY
"Dennis truly helped our wedding reception get hopping. He played appropriate music during dinner and got the party up and dancing! He was very professional and took the time to speak with us about the vision we had for our reception. Thank you, Dennis, as you helped to make our day so special."
– Amy G.
WHAT PEOPLE SAY
"With all the trouble we had with the venue, photographer, and catering, DJ Dennis was a breath of fresh air. We booked him six months in advance and he was very flexible. Played all of our songs and more! Highly recommended."
– Stephanie S.
WHAT PEOPLE SAY
"DJ Dennis was awesome. We had the best time at our wedding. He was punctual, played the best music, and created a fun atmosphere. Will definitely hire him again when I have another function!!! A+++"
– Margaret W.
WHAT PEOPLE SAY
"Dennis was AMAZING at our wedding welcome party in May. Karaoke was a HUGE hit and he even stayed way later than he needed because everyone was having such a great time. Truly could not say enough great things!! Seriously, hire his karaoke expertise ASAP!"
– Carmen T.
WHAT PEOPLE SAY
"Dennis was exactly what we were looking for in a DJ – professional, relaxed, and knew what the party was looking for in terms of tunes. He made our dance floor an absolute blast! We highly recommend working with him."
– Paulina G.
WHAT PEOPLE SAY
"Dennis was very easy to work with. I provided a playlist of songs which he used throughout the night, as well as incorporating additional songs based on his expertise/years of experience! I received several compliments on his services! Thanks, Dennis!"
– Lisa G.
WHAT PEOPLE SAY
"Dennis is wonderful! I reached out to find a DJ in a quick pinch because my DJ had to cancel at the last moment. Dennis was quick to respond and was so easy to speak to about the planning process…"
– Emily M.
WHAT PEOPLE SAY
"Dennis was fantastic for our backyard wedding. Incredibly responsive and worked with our schedule to make sure all of the guests were having a great time. Highly recommend."
– Graham L.
WHAT PEOPLE SAY
"Our wedding was a success, thank you! We had added a logo projector and my friends requested many songs. DJ was able to play everything we wanted to hear!! Great job!"
– Natarsha J.
WHAT PEOPLE SAY
"His lights and speakers were amazing!! They really pulled the whole wedding together! He was a great DJ! I definitely recommend him!"
– Holden F.
WHAT PEOPLE SAY
"We were very happy to work with DJ Dennis for our wedding. Dennis is very responsive, and great to work with. I highly recommend him for any party or wedding."
– Pam C.