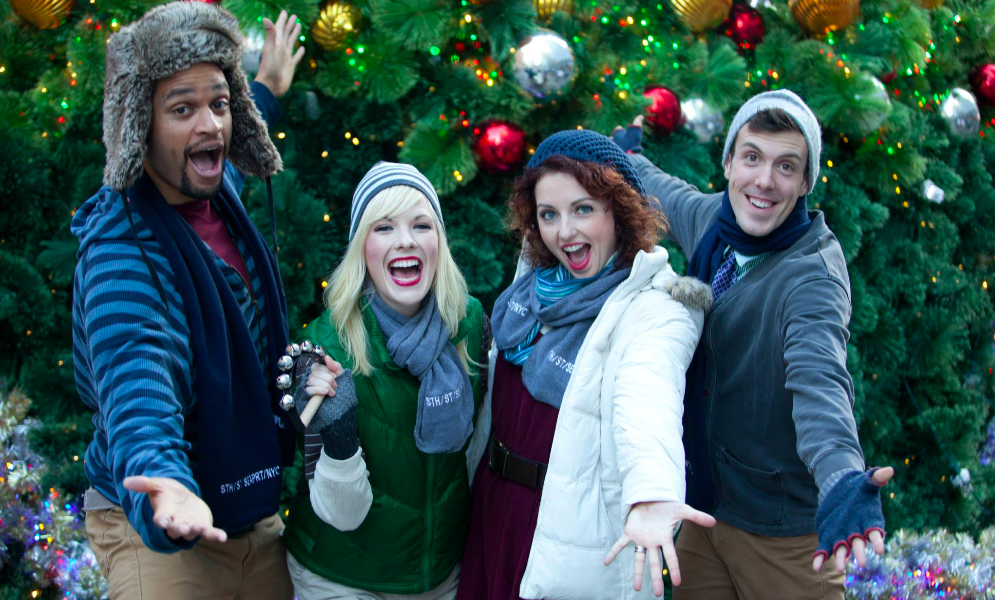 The Mistletones have been spreading holiday cheer in the Boston and New York area for more than a decade! The a cappella group consists of four to five incredibly talented vocalists with years of live performance experience. Our most popular holiday quartet to date, The Mistletones have an upbeat, fun and festive feel with 100% memorized song lyrics. They've been featured on ABC-TV, NBC-TV, and offer music that ranges from classic carols to modern holiday songs with more contemporary arrangements. They even come complete with a beatboxer! With many different types of performances under their belt, The Mistletones easily add magic and joy to all events! Book them for your holiday party, tree lighting, holiday concert, holiday stroll, or other similar event and be remembered for years to come!
WHAT PEOPLE SAY
"Party Singers (specifically The Mistletones) did a holiday show at my son's middle school in December. The 5 singers, including one beat boxer, were extremely PROFESSIONAL, punctual, APPROACHABLE and extremely talented performers. They did one hour of wonderful holiday songs, suited to kids 5th-8th grade, and were fun, funny and created a great ambiance for the kids…The organizer, was so easy to work with and made the booking process very easy. Thank you!"
– Jessica M.
WHAT PEOPLE SAY
"We've worked with The Mistletones for our 2016 and 2017 SoWa Winter Festival. They are a wonderful addition to our event, as well as a pleasure to work with! Highly recommend."
– Aida V.
WHAT PEOPLE SAY
"The Mistletones were a wonderful addition to our Christmas Caroling series at One Penn Plaza. The crowd enjoyed their fun performance despite the light rain. The group was very friendly, ENGAGING and energetic while spreading the holiday cheer!"
– Gabrielle D.
WHAT PEOPLE SAY
"I say a big THANK YOU to the two groups of The Mistletones that were onsite at our Grand Opening event this most recent Saturday. It was icy cold out there, but both groups were super ENTHUSIASTIC and really brought the energy, on top of sounding wonderful. They were both in touch via text to confirm the event location and some additional details. We were very pleased and would want to work together in the future when the opportunity arises! Excellent, POSITIVE ATTITUDE and totally professional."
– Erin P.